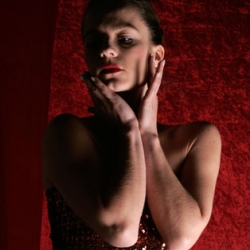 Step into the Darkness into the Night
Premiere 2007
A confession of a cabaretdancer. A cabaretdancer is caught by fear in the middle of dance show. About the meaning of failure and success in a person's life and relation to herself and her own story.
K2, Kanonhallen, Dans-K festival
12. - 17. maj 2007
Duration 20 minutter.

Artistic & production team
Dance, choreography and staging Pernille Garde Sound composition Ninna Steen Voices Anne Claire Theissen, Ninna Steen & Pernille Garde
Lightdesign Lars Egegaard Costumes Rikke Von Qualen Dramaturgical ass. Lotte Bergstrøm Photo Line Berg Riise.
Supported by
Augustinus Fonden.


Reviews:
Politiken 2007,
Janus Kodal:
**** "She is covered with spotlight and stardust, red drapery and intimacy, but the image shifts and we see that most of it is an illusion of an anonymous cabaret dancer."