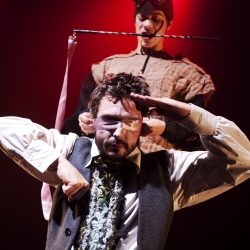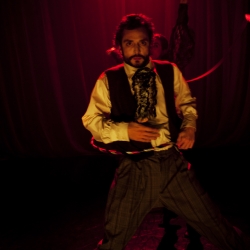 CIRCUS OF LIFE reviews
Live Review in Dansehallerne, 9 th November, Anne Middelboe Christensen:
"Circus of Life" is the ugliest dance performance of the season! It is also the most grum performance of the season. It is a performance that holds so many paradoxes about life as it can be expressed through the body. [...] It is a show full of surprises and unexpected, very violently shifts. [...] "Circus of Life" is also one of the most beautiful dance performances of the season. There are scenes of remarkable beauty, unexplained grittiness, mood descriptions of two people in strange movements, climbed together, pasted together in their bodies, which is incredibly ambiguous and very fascinating. [...] How wonderful it is that "Circus of Life" is the season's ugliest dance performance. And how uplifting it is, that it is also the most grummest."

Information 12th November 2012, Anne Middelboe Christensen:
"... entertaining and clever dance performance. Choreographer Pernille Garde mixes all sorts of depraved expressions from the circus world of decadence [...] with a cheerful dance energy, which is Pernille Gardes own, in a enthusiastic mix of show dance and ballet spiced with both modern dance and artistry [...] she masters indeed the choreographic kinky-collage. [...] Her dancers are mildly sustainable, both lifting legs high and their head cool on an enviable, international level."
Michael Svennevig, author and playwrighter:
"[...] We are in the cabaret of life or circus where we alternately smiles and get thrilled. We laugh because we see through their putting themselves in front, because the two dancers for a while wear the roles we have played and still play - we see through it and we recognize it. We look into the magic mirror they hold up for us and recognize what we see in there [...] Just below the very aesthetic and perfect surface of the performance lies a bitter critique of civilization. [...] In Pernille Gardes well constructed and cleverly staged performance we see and experience it all. It is danced, mimed and performed in a great and inviting way by Tiziana Fracchiolla and Alexandre Bourdat."

Susanne Trudsø, Terpsichore:
"Choreographer Pernille Garde has based her performance upon the original sin and has created a humorous, absurd and grotesque dance performance."

**** Magasinet KBH, Lisa Jespersen:
"We feel, despite the striking truths, innocent. We can stand on the sidelines, laugh by the freak show and shake our heads over "man", as we were of an entirely different kind. This is the phenomenal strength of the performance. All this is carried only by the two dancers who takes us on a sharp journey through an emotional spectrum."