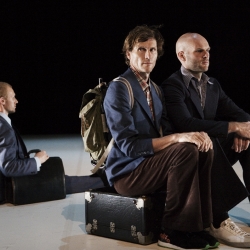 About Brothers
Premiere 2008
A man is deserted by his beloved one. In despair he departs with his two brothers on a journey to find her. Along the way we get glimpses of the informed games between the brothers, power struggles and quirky sides. In an ambiguous universe their shared story is awakened to life, memories appears and draws tracks to one particular incident from their childhood.
The inspiration for the performance About Brothers, is found in the family. I have explored the patterns that occurs between siblings and how they are expressed. In addition, I have worked with, how family structures shape us and form our identity in adulthood.
In the performance the three brothers shares a common grief, which have influenced them in different ways. In retrospect the brothers experience glimpses and scenes from their lives, in an outer and inner journey, through landscapes of memories and experiences, mixing past and present towards recognition and acceptance of a fateful childhood experience.
Dansescenen
30 September - 12 October 2008
Duration 60 minutes.
Artistic & production team
Dancers Sofia Karlsson, Bo Madvig, Thomas Nørskov and Niklas Levin Composers Greamusic - Tin Soheili & Niklas Schack Costumes & props Julie Forchhammer Costumes Rikke Von Qualen Lightdesign Rasmus Eeg Choreographic ass. Sidsel Halberg Dramaturgical ass. Lotte Berstrøm Photos Natascha Thiara Rydvald Grafic design Ditte Bolt Pr Anne Mette Berg Technician Jacob Bjerregaard Administration Projekt Center in Dansens Hus/ Hanne Svejstrup.
Supported by
The Danish Arts Council, Knud Højgaards Fond, Augustinus Fonden, Toyota Fonden, Oticon Fonden and Københavns Scenekunstudvalg.


Reviews:
**** Byenkalder.dk 2008, Susanne Trudsø:
"The steps are amazingly sharp and precise, and the physical language full of energy. Plus a wonderful twist of humor […] a journey full of images in the silent language of the dance with a delightful drive and room for lots of reflections."
KultuNaut 2008,
Johanna Rothausen:
"[...] expresses strong emotions and get people to break free of entrenched identities, so they show hidden aspects of themselves that shocks or surprises. Pernille Garde succeeds in getting the secret, the unspoken and the oppressed to the surface and expressed through the dance. And the four dancers also have a good and strong appearance - also in the facial expressions [...]"
Pernille Garde
+45-27147206
mail@pernillegardestageart.dk