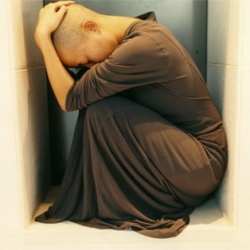 Falling
Premiere 1999
A tiny figure struggeling with herself. Falling into the existence. Letting go into the unknown.
Statens Museum for Kunst, part of Festival of Solo-dances Festival
"Singles"
November 1999
Choreographer Pernille Garde Dancer Katja Berg Petersen costume Rikke Von Qualen Lightdesign Thomas Bek/ Lars Egegaard Sørensen Music Eleni Karaindrou og Arvo Pärt Sounddesign Mogens Laursen Produced and curated by Aaben Dans.


Reviews:
Alexander Meinerts, Politiken 23. november 1999:
"[...] Pernille Gardes Fald er en koncentration, billedskøn enkel og minimal i sine virkemidler med en skygge forstørret og kastet op på bagvæggen i kontrast til en spæd iagttagende figur [...]"
Vibeke Wern, Berlingske Tidende 21. november 1999:

"[...] Det er lykkedes at få et personligt og særegent udtryk frem i dansen [...]"
Pernille Garde
+45-27147206
mail@pernillegardestageart.dk