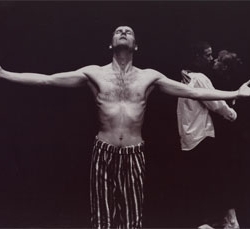 Silently the night flows
Premiere 2001
Three people meet by coincidence late one night. They don't know each other, but all are drawn by the night lights and the dreamy atmosphere being evoked. In the dark of the night the different characters reval glimpses of their state of mind, and emotional relations emerge between them.

A triangular sleepwalk-like drama between two men and a woman.
Dansescenen, part of Debutprogrammet
12 -17 February 2001, 20:00
Duration 20 minutes
Artistic & production team
Dancers Sorella Englund, Bo Madvig & Jacob Dorff-Petersen Costumes Rikke Von Qualen Musik T. Morena, Albert Ayler, Goran Bregovic-Black Cat White Cat Lyddesign Morten Mariendal Lysdesign Anja Myung Hansen Foto Thomas Petri Lightdesign Anja Myung Hansen Head of production Jesper Sønderstrup Producer Dansescenen.

Supported by
Teaterrådet, Blankbåndsmidlerne og Wilhelm Hansen Fonden.


Reviews:
Politiken 14. februar 2001, Janus Kodal:

"[…] But the redeeming expression - and I totally forgot it was dance, I was watching - was offered by Pernille Garde […] we realize, that they are images of ourselves enrolled in a drama mirroring life, that we are so very different from what we know. But it doesn't matter that they are images. The spiritual impact, that to me is art, has already forced us to understand its language."