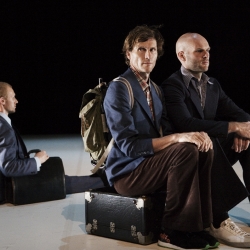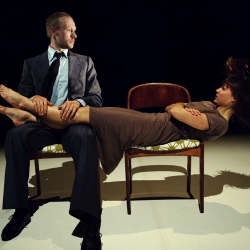 ABOUT BROTHERS reviews
**** Byenkalder.dk 2. october 2008 Suzanne Trudsø:

"[...] all the female roles is intensively danced by beautiful Sofia Karlsson [...] The emotional dance performance has a story, but not a unambigious story, your own imagination is stimulated as well. The movement language is amazingly sharp and precise with a drive in a ´silent movie´ kind of steps. Plus a wunderful twist of humor, as when there is disagreement between the brothers, who is the traveling guide in the rumbling trains. Or the butterfly hunter who suddenly gets hunted by an agressive insect [...] an evocative journey in the wordless language of dance with a wonderful drive and lots of space for reflection."
Berlingske Tidende 3. october 2008, Vibeke Wern:

"Pernille Garde has flair as a choreographer to use and create both physical and emotional space in her dance stories. Physical her new show "About brothers" begins very smart in Dansescenens foyer, where one of three brothers are abandoned by his lover. Gorgious is Bo Madvig as the nature-loving brother butterfly on the head and desire for trying dresses. Excellent are Thomas Nørskov and Niklas Levin as on the outside cool brothers in suits, and Sofia Karlsson is a lovely dancer as both a woman and a charming girl, who in childhood incites dangerous play on the railway tracks."
KultuNaut 2. october in 2008, Johanna Rothausen:

"With humor - mixed with fights and strange oddities that exist in most sibling relationships - the brothers rivals, compeed and play themselves through a story of informal games, complicated connections and small secrets. Pernille Garde has in recent years worked a lot with emotions. Her work is based upon human issues, expresses strong emotions and get people to free themselves of fixed identities, so they can show hidden sides of themselves that shocks or surprises. It succeeds Garde to get the secret, the unspoken and the oppressed to the surface and into the dance. And the four dancers all have a good and strong expression - also mimicly ... "