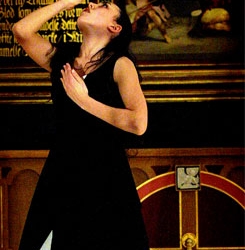 The burning Tree
Premiere 2002
Church performance about Kain and Abel, the cruxification and Maria Magdalena at the grave of Jesus.
7- 9 March, Rødovre Kirke
14 - 16 March, Lindevang Kirke
Artistic & production team
Dancers Alice Martucci, Jacob Dorff-Petersen, Karina Dichov Lund & David Törnqvist Music Bo Andersen Costumes Rikke Von Qualen Photo & Poster Morten Vest
A collaboration with the priests Helle Theill, Rødovre kirke (Rødovre Church) & Lisbeth Müller, Lindevang kirke (Lindevang Church), March 2002.
Toured 5 churches in Copenhagen, fall 2003.
Supported by
Kulturministeriets Udviklingsfond, Statens Kunstfond and Kirkeministeriet