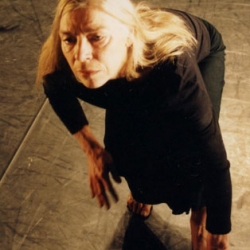 The Walk
Premiere 2001
An old Woman walks through time in a dry and desolated landscape. She is looking for water. The soil is rocky and hard and the heat is stifling. She has walked for a long time and sits down to rest. Slowly images from her life occurs in her mind.

The Walk is about an old womans encounter with herself in different ages at the end of her life.
Dansescenen, part of Dansolution 2
2001
Duration 20 min.

Artistic & Production team
Dancers Jytte Kjøbeck, Mette Aakjær & Asta Meldal Lynge Costumes Rikke Von Qualen Music Eleni Karaindou, Phillip Glass, Deathprod, John Lurie Sound edit Morten Mariendal.
The solo The Woman who was caught in adultery won the Dancecompetition Dansolution 1 at Danscenen. The prize was the funding of a new production presented at Dansolution 2. This production was The Walk. Touring Gran, Aarhus, Odinteatret, Holstebro og Studenterhuset, Ålborg, fall 2001.


Reviews:
Politiken 15. december 2001, Monna Dithmer:
"There is a wondrous sense of timelessness in Pernille Gardes "The Walk", probably because her interest lies, not in the movement, but in how to get the emotional spaces between people to dance. She has before shown a unique ability for this... It is completely naked and simple, but with the strength of emotion."
Pernille Garde
+45-27147206
mail@pernillegardestageart.dk