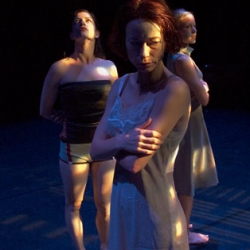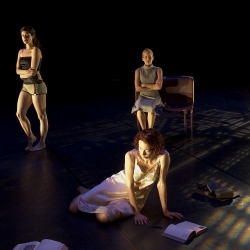 Sleepless
Premiere 2005
One night three different women meets by coincidence. An author is blocked in her ability to write, a woman waits impatiently, and the prostitute places herself at sight another night, locked into their different roles, they meet with a mood of melancholy and restlessness in common.
Dansescenen, a part of Kvadrillen
November 2005
Duration 40 minutter

Artistic & production team
Dancers Ninna Steen, Victoria May og Camilla Skovgaard
Lightdesign Rasmus Eeg Costumes Rikke Von Qualen

Supported by
Augustinus Fonden


Reviews:
Danstidningen 26 October 2005 Vibeke Wern:

"The strength of Sleepless is the use of the stage and the seperate universes created for the three different women [...]"


Pernille Garde
+45-27147206
mail@pernillegardestageart.dk