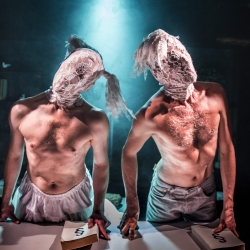 LOST MEMORIES
Touring
Disoriented and with no memory Mr. H arrives at a psychiatric emergency ward. The space and its sounds evoke fragmented glimpses of memories and the staff transforms into different characters from the past. Slowly he recalls: A woman is lost in the darkness.
"LOST MEMORIES" reflects a man´s inner chaos caused by the loss of his beloved one. It is a story about losing oneself when losing somebody else. The performance backtracks the traumatic events of Mr. H's life, slowly revealing what led to his amnesia.
"LOST MEMORIES" is an uncompromising and touching tale, unfolded in a poetic imagery of dance, words, video and music.
Artistic and production team
Concept, choreography and script Pernille Garde On stage Bo Madvig, Tiziana Fracchiolla, Kristofer Krarup & Sherwin Reyes Music and sound design Greatmusic - Tin Soheili & Niklas Schak Set- & videodesign Signe Krogh Lightdesign Michael Breiner Costumes Rikke Von Qualen Dramaturgical ass. Vibeke Wrede Choreographic ass. Louise Hyun Dahl Photos Natascha Thiara Rydvald Videodocumentation Jacob Stage Technician Jim Falk Administration Projekt Center at Dansehallerne/ CPH. Tour booking Annette Max Hansen
LOST MEMORIES granted by The Danish Arts Foundation's Committee for The Performing Arts 2014:

"Pernille Garde has with the dance performance "Lost Memories" created a relevant work with a choreograhical language of variety, musical originality and and optimized use of the participating dancers and performers who impresses and inspires. Michael Breiner create suspense with his telling and commentary light design, where the darkness all the time is disturbingly lurking and the light appears incredibly sharply."

Supported by
Statens Kunstfonds Projektstøtteudvalg for Scenekunst (The Danish Arts Council), Augustinus Fonden, Wilhelm Hansen Fonden, Danmarks Nationalbanks Jubilæums- Fond af 1968, Konsul Georg og Hustru Emma Jorcks Fond and Københavns Kommunes Scenekunstudvalg.


Info:

LOST MEMORIES full version
Technical Rider

Technical Rider LIGHT


LOST MEMORIES
on tour in DK 2015:
Bora Bora
Aarhus, Dk
7 & 8 October 20:00
Baltoppen LIVE
Ballerup, Dk
2 November 20:00
Laboratoriet
Roskilde, Dk
5 November 19:30
Kulturværftet,
Helsingor, Dk
9 November 19:30


Reviews:
Weekendavisen, 2014 Majbrit Hjelmsbo:

"[…] because she succeeds at striking a fine balance between tragic and absurd theatre, Pernille Garde manages to create a shocking and truly relevant dance-theatre piece, with a twist. Well done!"
Terpsichore, 2014:

"LOST MEMORIES is a truly intense experience. Rarely does a dance performance manage to captivate its audience so consistently as in this little choreographic pearl af a dance-theater piece."
**** Vibeke Wern, Berlingske Tidende:

"[...] puts a sensitive focus on notions of displacement and memory loss."

***** Gert Poder, Arbejderen:

"[...] A touching insight into our own being."

***** Ida Fredericia, kulturshot:

"[...] a constantly smooth, almost cinematic flow of movement and scene changes."

***** Pia Stilling, Kultunaut:
"The performance has depth and agenda, and not least - the narrative is comprehensible which allows for the audience to take a stand. This is a rare thing in modern dance."
Pernille Garde
+45-27147206
mail@pernillegardestageart.dk